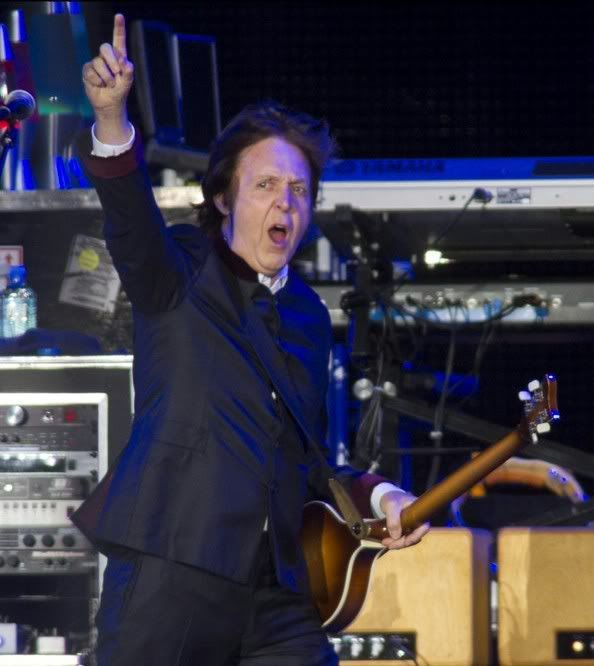 Source 3: Markum7

Source: master cassette Sony D3 aud > Sony TCWE435 > PioneerPDR-4 > CDR > EAC >
        WAV > Trader's Little Helper > FLAC 

Recorded by Markum7 from Section 331, Row 7

Quality: C 

01. Crowd / Applause
02. Venus And Mars / Rock Show
03. Jet
04. All My Loving
05. Letting Go
06. Got To Get You Into My Life
07. Highway
08. Let Me Roll It / Foxy Lady Jam
09. The Long And Winding Road
10. Nineteen Hundred And Eighty Five
11. Let 'Em In
12. My Love
13. I'm Looking Through You
14. Two Of Us
15. Blackbird
16. Here Today
17. Dance Tonight
18. Mrs. Vanderbilt
19. San Francisco Bay
20. Eleanor Rigby
21. Something
22. Sing The Changes (False Start)
23. Sing The Changes
24. Band On The Run
25. Ob-La-Di, Ob-La-Da
26. Back In The U.S.S.R.
27. I've Got A Feeling
28. Paperback Writer
29. A Day In The Life / Give Peace A Chance
30. Let It Be
31. Live And Let Die
32. Hey Jude
33. Day Tripper
34. Lady Madonna
35. Get Back
36. Yesterday
37. Helter Skelter
38. Sgt. Pepper's Lonely Hearts Club Band (Reprise)
39. The End

Notes: This one is a "collectors only" deal as there are two better recordings
already up here. But for those looking for every possible source, here it is.
Recorded from the upper deck of the the park, which was made for American
baseball games. The stage was far away from me and there was wind, so the sound
drifts throughout the recording. That how it sounded where I was sitting.
Also, my batteries burned out toward the end, so missed about 30 seconds of
"Sgt Pepper's" and "The End" before I could replace them.